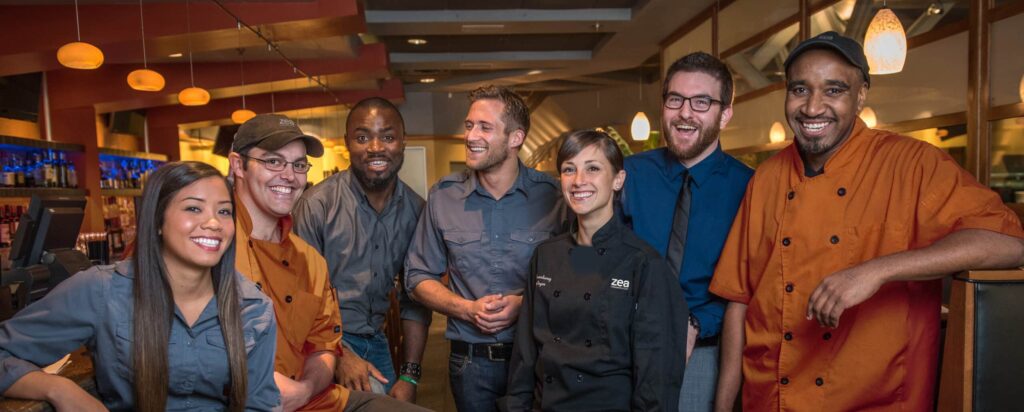 Team Member Careers
Join a team of people who come together to ensure that our guests have a great dining experience. Enjoy a fun, positive working environment with countless opportunities for learning and the help of a supportive team.
Management Careers
Join a team of leaders who are positive, passionate, ambitious, and great mentors. This is your opportunity to build a rewarding career with a growing company.
Did you know that over 70% of people are dissatisfied with their jobs?
They don't work for us
We put people first
Our mission is simply "to take care of the people who take care of our guests." We accomplish this by providing company contributed health insurance, full-time work for those who want it, mentorship, and career growth opportunities. Focusing on people over profits continues to help us achieve one of the lowest employee turnover rates in our industry.
Flexible Schedules

Discounted Meals

Closed Holidays

Employee Assistance Program

Life Insurance

Career Growth Opportunities

Awards & Recognition Program

Paid Vacation

Medical, Dental & Vision

Performance Based Pay

Referral Bonus

Wellness Program

Industry leading 401K & Match Program
Our Career Progression
If you are looking for more than a job, you can build a rewarding career with us.
Server Assistant or Host/Hostess
Server / Salesperson
Shift Leader
Service Certified Trainer
Bartender
Service Training Coordinator
Key Employee
Assistant Manager
Dish Washer
Line Cook
Kitchen Certified Trainer
Prep Cook
Kitchen Training Coordinator
Key Employee
Assistant Manager
Manager in Training (MIT)
Assistant Manager
Department Head – Service Manager
Department Head – Kitchen Manager
General Manager
Area Director of Operations
We're fired up at Zea!
THE BEST PEOPLE DESERVE
THE BEST PLACE TO WORK
About Our Culture
We share a common passion for food and a common goal to positively impact the lives of our customers and each other.
Follow us on
I've been with the company for about 10 years now and have worked at both Zea, Semolina and currently work for Taste Bud Management. The company culture is great, the people are like family & the food is delish! ~ Priscilla M. (Taste Buds Mgmt)
Zea Kenner has become like my second home, and my coworkers have become like my second family! ~ Pauline H. (Zea)
My experience with Taste Buds has truly shaped my life in many ways. I have grown up both professionally and personally with this company. Our culture is something that goes behind a set of words. It is a call to action and a code of conduct. We enjoy each other, challenge each other and grow both individually and collectively. This company is home for me. ~ Jeffrey T. (Zea)
For me, working for Taste Buds means being around family. At work, I am surrounded by people who care about me and my future. I am so grateful to be able to work for such an amazing company. ~ Ashley R. (Zea)
The first thing that pops into my head is: Working at Zea is a TON of fun, but the best part is meeting new people everyday and hearing their stories. ~ Chris G. (Zea)
The emotional connections we create within the company has given me memories that will last a lifetime. ~ Drew B. (Zea)